Café Slatkine

Location: Geneva, GE
Programme: transformation of a bookshop into a literary cafe with bar and reading rooms
Clients: Slatkine & Fils SA
Dates: 2015 - 2016
Status: built
Opened in 1918 by Mendel Slatkine, the venue is an unmissable, centenary-old institution of Calvin's city. For a long time, it worked as a bookshop only. Two generations later, it made sense to convert the space into a literary cafe, combining the intellectual legacy to something more telling of our time.
In a relatively confined space, narrow in places and with an open window front on the street, the challenge was to bring together books and bottles, mixing heritage and contemporaneity, fiction authors with gossips at the counter. To do so, the architects designed two large shelves placed in front of one another. They shared the same proportions, with three different heights allowing to display items of various sizes. On one side, books are lit from top to bottom, while on the other, bottles receive light from the bottom up to highlight their bases and labels. The whole space (flooring, bar, tables) is covered in oak, giving it warmth, while the walls and ceiling bear copper-coloured paint.
At the end of the cafe, we find a more secluded room where a similar shelf with three heights occupies the back wall. An opening from the ceiling fuels the room with natural light in the day, this space being part of the old courtyard.

Outdoor view from the street
At the heart of Geneva's old town, Café Slatkine reinvents the genre of the literary cafe, books on one side and bottles on the other.

View of the bookshelves amid interior design of the first reading room

View of the bar and bookshelves in the venue's main room
A second, more secluded room lies at the end of the cafe—the perfect space for more intimate gatherings.

View of the back room with skylights

Close-up view of the furnishing in the backroom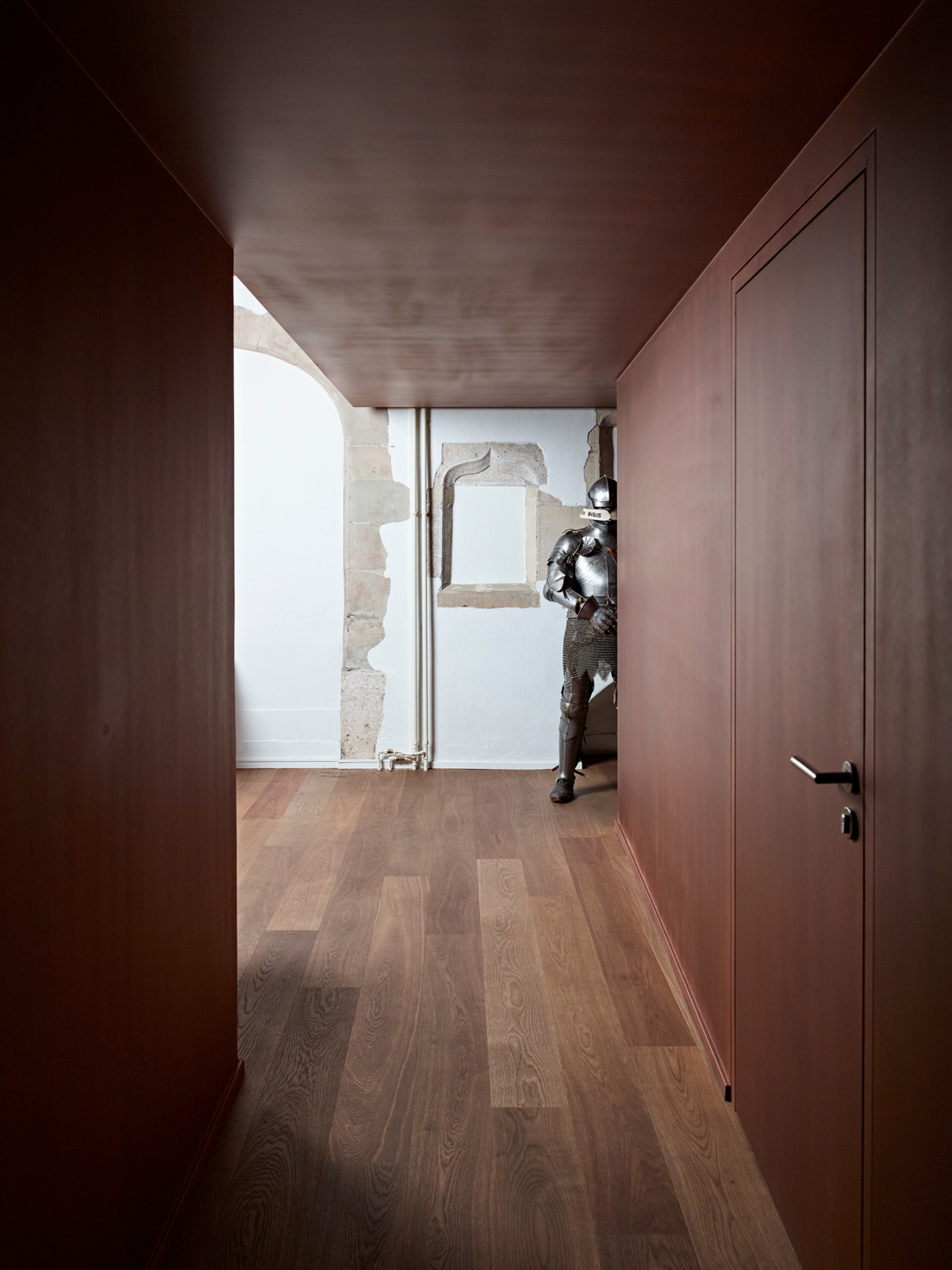 View of the corridor with wood and paint details


Plan

Longitudinal cross-section